How to become Instagram Famous Overnight?
April 22, 2019
To become an Instagram famous seems to be easy but in actuality; it is not as easy as most people think as it needs a lot of strength, consistency to be successful in achieving the goals. But it's not like that is not possible, it is possible if you keep struggling to reach your target. Many people get fame in less time even in a single night but some get status after years. So no doubt it is difficult to become Instagram famous as a makeup artist but not possible. So If you want to learn how to become Instagram famous rapidly then this guide is for you. Here in this article, we would be sharing some great tips on how to become instagram famous overnight?
Why Instagram:
There was a time when Instagram was just known as a social media platform for sharing photos to your loved ones but today Instagram is one of the rapidly growing social media platforms. It is one of most popular photo and video sharing social networking site. Instagram now has more than 30+ Million Business profiles with 1 Billion monthly active users. Instagram claims that they have 1 Billion plus active accounts with 500 Million plus active users every day. Around 60+ million pictures are posted daily on Instagram having 1.6+ billion likes every day which is one of the reasons that it is the biggest social media platform all over the world. So here the question arises that why people prefer Instagram most rather than preferring other famous social media platforms like Facebook and Twitter?  This is because the engagement rate of Instagram is around 58 times higher than any other social media application which is the reason why people wants to become famous on Instagram.
Following is the step by step guide for becoming Instagram famous:
Brief Overview:
Optimize Your Profile.
Follow your friends and family to increase followers.
Showcase your content
Try to post daily, at least 1 post a day.
Use unique and related Hashtags.
Ask your followers to turn on post notifications.
Run an Instagram contest or giveaway program.
Share your content everywhere.
Question/Answers sessions.
Make use of emoji in your post
Tips for how to become instagram famous overnight?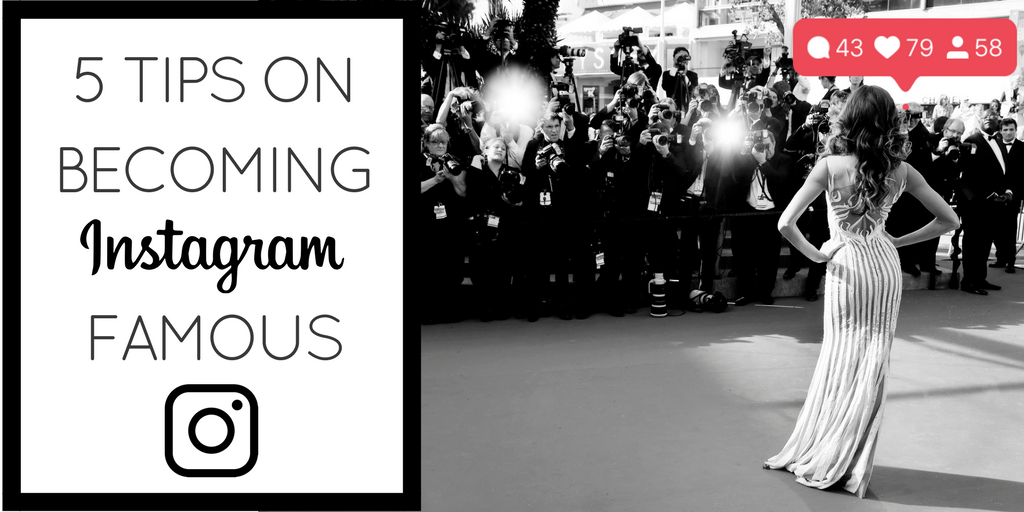 1:  Choose your niche:
If you want to become an Instagram famous, the very first thing you need to do is to select a niche you're passionate about. You must have enough knowledge and interest in the niche you've chosen. Don't go like if someone is successful in some niche, don't choose that niche if you don't have interest in that niche because in the initial stage, you might try to get engaged in your niche but after some time, you'll end up being bored as interest lacks. The most commonly used niches on Instagram for Influence marketing is beauty, travel, fashion, photography, food, lifestyle, and fitness etc. So it is a very important thing for you to make a decision which niche you've to choose to start your online career. Moreover, set an attractive username which is easy to remember. Once you've set up all, move to the next step.
2: Optimize Your Profile
Optimization plays a very important role in growing your Instagram account rapidly. One of the best ways to optimize your profile is to set a beautiful profile picture for your Instagram account. Moreover, use an eye-catching bio and place a website link in your bio if you have a website. Post photos and videos regularly to engage your audience every day as you all know content is the king.
3: Follow friends & family members:
A great way to grow your Instagram followers and engagements rapidly is through following everyone including your friends, family members and other known people from your contact list. You can search and follow them through the following ways:
Simply connect your Facebook account to your Instagram account. A list of Facebook people will be displayed who have an Instagram account. Follow them and they'll follow you back.
Add a phone number and search the people through Instagram who is in your contact list and follow them all to get a follow back.
4: Use appropriate Hashtags:
Hashtags play an important role in your Instagram growth and they are basically recommended to use on Twitter, but they have now become a hard requirement of Instagram. Some people love using hashtags in their posts while some people don't like but you know what, posts having at least one hashtag tends to get 12.6% more engagements than a post without having a hashtag. The more are the hashtags, the more it would be better for the post to get more reach. However, you are only allowed to use 30 hashtags per post. Use only the hashtags that are related to your post. Hashtags are a great way to search for content related to the hashtag. Make your hashtag a brand if you don't have any hashtag. Hashtags have proven to be the best way to rank your post and help you to get more reach.
5: Engagement with the audience:
Engagement is the most important factor in marketing your business on Instagram. Stay active with your followers in order to get good engagement. Whether you are new to Instagram with fewer followers or having an old account with millions of followers, get engaged with your audience. Post high-quality content and use hashtags related to your content. Instagram engagement depends on a lot of things which are likes, comments, shares, it is also depended on views, saves and swipe ups. Try reply to all comments, like other people content and engage with them by following them and they'll follow you back. if you don't have time to explore other people content then you should buy Instagram Auto liker Tool to automate your work to get organic reach and more engagements. Following are some more other ways to engage with your audience.
Post notifications:
A great way to increase engagement with your audience is to ask them to set up post notifications for you. This method would result in getting more views and more likes on your post. To set up post notifications, simply go to the Instagram profile and click on the three dots (…) in the upper right. Bunch of options would be there, select "Turn on Post Notifications." Whenever you'll post now would notify your audience on their home screen.
Also know best genuine and legitimate ways to make money online without investment.
Q/A session:
Do a question/answer session in your posts, stories or you can even go live and ask questions from your audience. Because, Reports have been showed that when you ask questions, you'll likely to get more likes and 5x more comments.
Share Your Content Everywhere:
Sharing content on all social media platforms such as Facebook, Twitter, Pinterest, and WhatsApp is also known as Cross-Posting. This method would help you a lot in getting more engagements to form all social media platforms.
Make use of Emoji:
Emoji plays a very important role in getting more engagements from your audience because using emoji's in your posts would attract the audience more than a post having no emoji.
Run an Instagram Contest:
Instagram Contest or Giveaway program is one of the best ways for Instagram growth. Everyone is eagerly waiting for discounts, sales, and offers. If none of the above strategies works, then hopefully this method would work for you by offering your audience discounts, promotion, and some giveaways. In this way, you will get engagements with your followers.