15 Best Universal Remote Apps for Android and ioS devices
August 29, 2019
Universal Remote apps are those that let you control all your devices from TV and AC to Projectors, all that with a single application on your phone. So why exactly do we need them?
Aren't you tired of looking for those remotes, which I think have the supernatural ability to disappear into thin air right when you need them the most? You are back from the office on a hot sunny day, you are bushed and need to readjust the temperature of the AC and walla, the remote somehow sensed that it is required and it decides to vanish.
Feel me? Does this not just bend you out of shape and you so wish if only you could just replace all those irksome remotes with a universal remote app to control all your devices?
Wouldn't it be nice if you all your devices could be integrated together through the internet and be monitored by a single universal application on your phone?
Or you could simply turn off the projector in the middle of a boring lecture! I mean who hasn't / wouldn't want to try that!
We, your friends at dailyjunkies are here for the rescue with a list of some of the best IR Universal remote apps for androids and iPhones.
1. SURE: Smart Home and TV Universal Remote App:
SURE is a universal remote control app for smart homes and home entertainment. It lets you embrace all the perks IoT and automation without any hassle as it is super user-friendly. Also, this application, in addition to giving you the power to control all your appliances, lets you import photos, videos, and music to any smart device.
Due to a combination with standard OFC, it can support any protocol and also can be connected to various smart home technologies like Z-wave, ZigBee in addition to network technologies like BlueTooth and WiFi.
Limitation :
Your Android device needs to have a built-in IR blaster or you'll have to spend on WiFi-to-IR converter to use this application.
Adds! Though an ad-free version is also available at a reasonable price.
Features :
Facilitates voice command hence can be integrated into Amazon Alexa.
Convenient browsing through your music library and also supports popular audio/video formats.
Lets you handily copy and share files to devices connected over a network.
2. ZaZA Universal TV Remote :
This Universal remote app, ZaZA can be used to control an array of devices with your smartphone provided it has IR Blasters. It can be used to control TV, air conditioning, set-top box, projector, DVD, Fan, SLR, lamp, etc.
Limitation :
Ads are a limitation as this app is free of cost.
Features :
Use electrical brand + model and search to find remote control quickly.
300,000 appliances can be controlled using this app.
It is compatible with 8000 appliance brands worldwide.
Customizable.
Free remote control accessory for those having no built-in  IR Blasters on their phones.
3. Google Home :
The Google Home we mention here is more than just an answer box used to set reminders and program the day. This IR remote application for iPhones and androids can manage, set up and control your google home and Chromecast devices, in addition to controlling many other compatible appliances such as lights, TV,  cameras thermostat and any more from one place, hence a universal remote app! Furthermore, it can customize what you get from google assistant.
Limitation :
Not integrated with Google's own services.
Inefficient Google Cast support.
Features :
Customizable
Voice control
Expanding hardware ecosystem
Discover tap lets you discover new features and updates compatible with your device.
4. Amazon Fire TV Remote :
This  IR TV remote app for iPhone/androids/ Fire OS lets you control your Fire TV using intuitive swipe-based controls. Also, there is a built-in keyboard in addition to voice input for hassle-free searches.
Last but not least, this app also allows you to cast your photos and videos on your Fire TV.
Limitation :
Paid premium version.
Not user-friendly.
Features :
Swipe based virtual remote
Built-in keyboard
Voice input
Quick Access to your favorite channels.
5. Unified Remote :
It is one of the best universal remote applications to unify your smartphone and your PC. Implying, now you can control your computer with your smartphone, provided they are connected to the same WiFi.
All you need to do is download the app on your smartphone as well as on your PC, scan it from your phone and voila ! you are good to go.
Moreover, it has cross-platform support, that is a toy that can control your Mac/Windows/Linux with your Android/IOS/Windows Phone.
Limitation :
UI could be better
some remotes aren't available for all OS.
Features :
Easy app and server setup
Pre-loaded with support for 90+ programs including mouse & keyboard, media players, presentations, screen mirroring, power control, file manager, terminal, etc.
Automatic server detection
Server password protection and encryption
Single and multi-touch mouse control support.
Controls other devices like Raspberry-Pi and Arduino-Yun
Wake on LAN to easily start your servers.
6. RCA Universal Remote App :
The RCA Universal Remote App for Android lets you control multiple devices, all at once.  It is compatible with many devices such as CD, Blue-ray and DVD Players and many other stream devices.
Limitation :
Programming an RCA remote can be a tough task. Check that out here:
Requires a lot of permissions for smooth functioning.
Features :
Available as freeware.
Easy to use GUI.
Regular updates
7. IR Universal TV Remote :
This application here will turn your Smartphone or tablet into a universal remote for good, provided they have built-in IR blaster.
With IR Universal TV Remote, you can toss you physical remote in the bin ! Also, it lets you control other appliances such as TV, AC, lights, etc.
Limitations:
Works only with devices having IR Blasters.
Lots of Advertisements.
Features :
Easy to configure and use
Customizable
Macros can be set up which allows you to control multiple devices with a single touch.
The IR Universal Smart Hub lets you control multiple appliances from a different room as well.
8. Peel Universal Remote :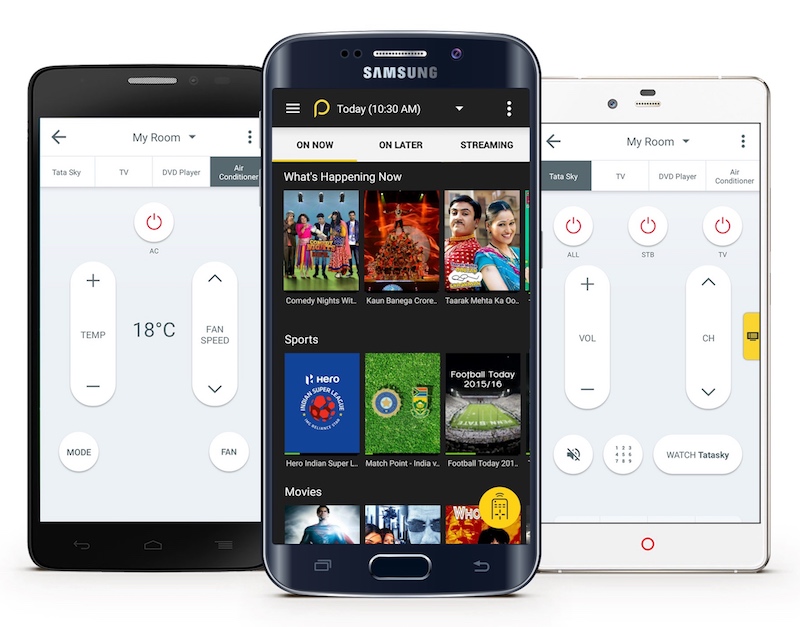 Peel Universal Remote is an application that helps you remotely control all your smart devices. It is easy to use as it automatically sets up all the devices in your WiFi network that can be controlled through IR.
Limitation :
Works only with smartphones that use built-in IR blasters.
Features :
The app intelligently organizes your preferences and also recommends a list of custom programs based on the content you consume.
Lets you set reminders such that you don't miss out on any of your favorite programs.
Can recommend programs from various platforms such as Netflix, HBO, etc.
Makes Lockscreen smarter by posting updates regarding news, games, weather, horoscope, etc
Allows you to search for your favorite shows, teams, etc.
Voice control
Customizable remote
9. The Xbox :
Next on our list of best universal remote apps for iPhones/androids is the Xbox.  It allows you to control multiple devices simultaneously. It provides quick access that allows users access to all the basic controls that a user may wish for in any universal remote. However, more controls can also be set up for better user experience.
Furthermore, installation of this universal remote app gives access to many parts of Xbox live as well.
Limitation :
Download and installation on windows platform can be a real pain.
Features :
Great user interface.
Customizable.
Compatible with 1000+ devices of different sections.
10. Yatse: Kodi Remote Control and Cast :
It is among the most popular Kodi/XBMC applications. Along with an amazing UI, this app also provides many awesome features. Furthermore, it allows you to Stream your Kodi, Plex, and Emby media to your Android device, UPnP, AirPlay, Chromecast, FireTV, Roku and Smart TV.
Yatse is the best Kodi remote for android.
Limitations :
Your media must be compatible with your player as Kodi does not support transcoding.
Kodi limitations do not allow most Kodi add-ons and PVR to be streamed.
Features :
Allows you to Cast your phone media to your Kodi, UPnP, AirPlay, Chromecast, FireTV, Roku and Smart TV.
Multiple plugins for SMS, call ad notification forwarding or starting Kodi remotely.
wake on LAN and power control options.
can access your library offline.
complete configuration to all your needs.
11. Mi Universal Remote App :
Remember I mentioned pranking the teacher by turning off the projector during lectures? Yup, This universal remote app by Mi is the culprit! At the very least, in my college it is.
MI universal app remote, as the name suggests allows you to control an array of devices.
The most interesting feature provided by this app is My Room that allows you to control all the devices already added as a single remote in a single page.
Also, you have the facility of backing up your remote on the cloud!
Limitation :
This works on IR technology hence devices using radio frequency technology are compatible.
Features : 
Keeps updated about your favorite TV shows and also allows you to watch it on your mobile devices.
Free from adds.
12. AnyMote Smart IR Remote:
Anymote again is a universal remote app which lets the user control any device with the help of a smartphone.
Anymote has the best coverage of all Android remotes with 900,000 supported devices and counting. Also, it supports touch gesture for eyes-free control, mute/pause on phone call, macros for chained commands, widgets, automate tasks, floating remote for access even while using other apps, etc.
Limitation :
Not compatible with Huawei, Vizio or Sony phones. Compatible only with LG G3 and G4.
Features :
Customizable
Tasker integration.
Voice command through Google Now.
Air gestures
Adds on the remote.
13. Roku :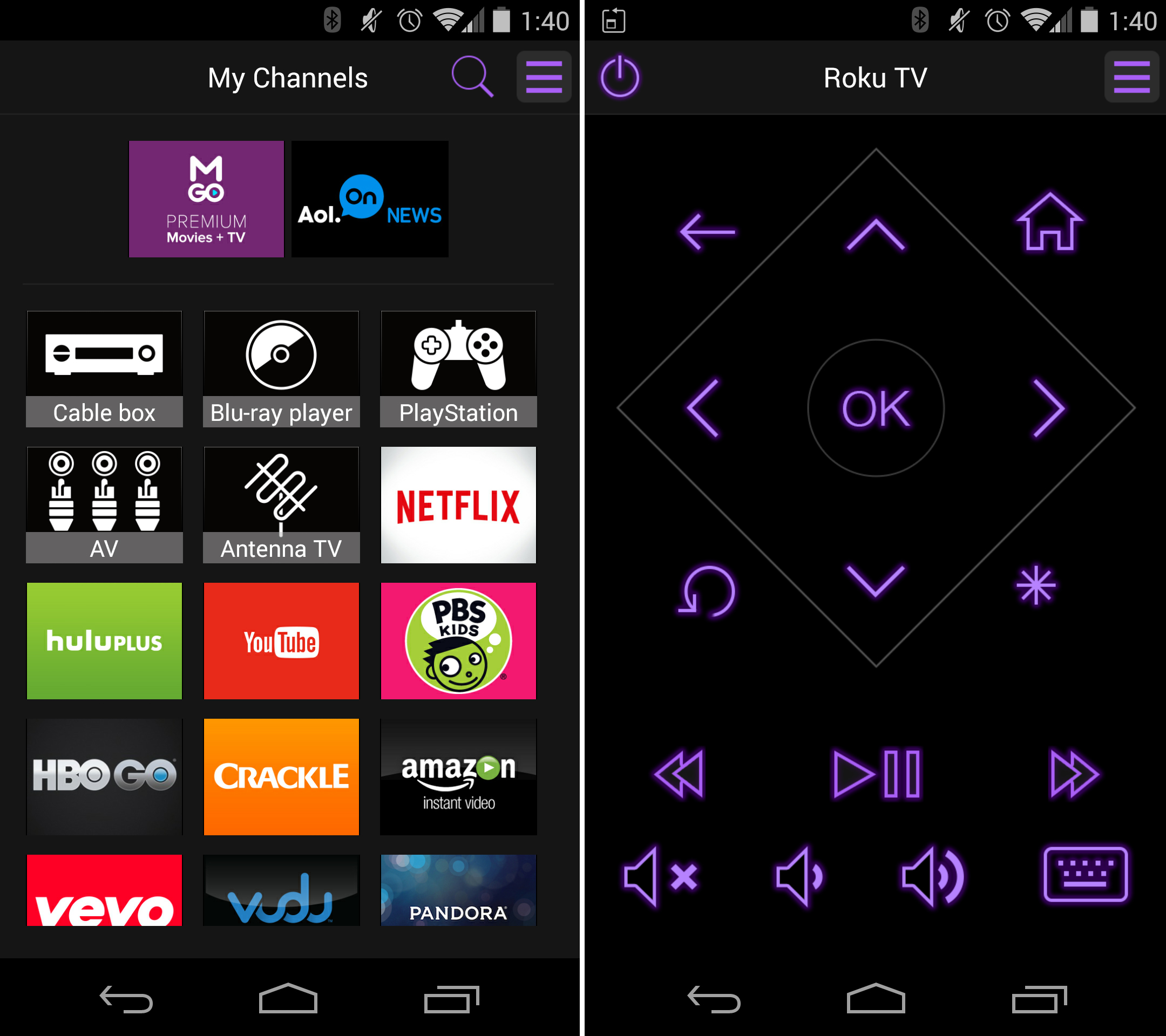 Roku can be an excellent universal remote control app for Roku owners, provides they are connected on the same network. You can use this app to remotely control devices by both an iPhone or an android.
Limitation :
Though this app comes with fast forward, rewind, play, play, navigation and voice search buttons, it lacks volume buttons. hence, you will be needing your TV remote as well.
Features :
Add hidden channels
Caste devices from streaming sites to your Tv
Notifications about your favorite episodes.
Easy search options.
14. ASmart Remote IR :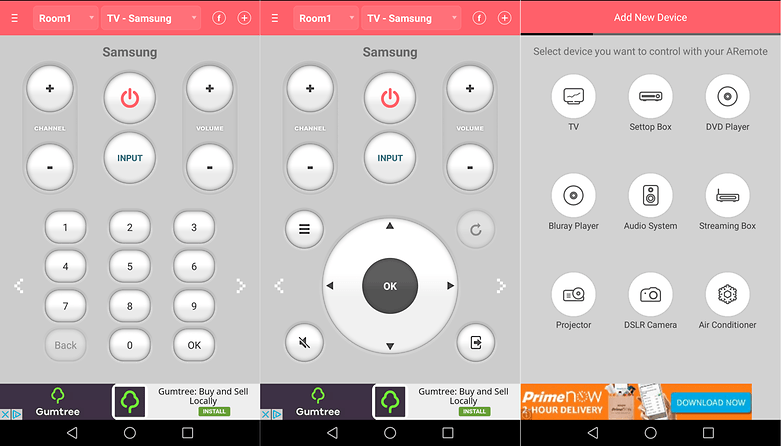 Asmart is a universal remote app for Android. It can be used to control TV, set-top box, DSLR cameras, AC, DVD/Blue-Ray players, streaming box, etc.
Limitations :
Distracting adds
might look better with an opaque background.
Features :
Great user interface
Supports a large number of devices.
Unique design for every remote.
15.Twinone Universal TV Remote:
Twinone universal TV Remote control app lets you control your TV, cable box and much more with just touch. This app is super user-friendly. All you need to do is select the device you want to pair it with. Also, there is support for the devices that aren't enlisted.
Limitations:
Advertisements are again a problem for this app also.
Features :
Also Read about: Best Google Cardboard Apps for Android and ioS devices: Virtual Reality Apps in 2019.
Final words about free tv remote apps:
So those were some of the finest Universal IR remote applications available for Androids and iOS. Try them out today and we assure you that they won't disappoint you! If you have more suggestions then do mention in the comments section. Share your experiences about these apps so that everyone gets justice. Thanks for reading!
Stay tuned at dailyjunkies.com for more posts related to apps and technology.