12 Best Auto Tune Apps to bring the sleeping singer out of you
January 21, 2019
Every other person is turning into a singer these days and it's a trend now! Thanks to autotuning technology! No matter if you are a professional or an amateur, an auto tune app is for everybody! Autotune is a mandatory thing for every singer these days. Hence in this blog, we are up with the best autotune apps that will bring the singer out of you.
An auto tune software usually requires a heavy setup with extravagant machines and microphones. But computer technology is a savior! It has got you covered. These days you can do this elaborate process with a mobile application. And the results will amaze you for sure!
An auto tune app is generally a computer program that helps in tuning the vocals, generated by a human body or a machine, by automatically tuning it or correcting it by some pre-installed computer programming or coding. It can be any one of them:-
It can be also said that it is a facility for tuning something automatically. Especially a computer program or code which does the correction of an out of tune vocal performance by its auto-tune facility. There are several auto tune apps already available in the market. These can be downloaded from different platforms like ANDROID, IOS, and WINDOWS. We will talk about some of the best auto tune apps for android and ioS available in the market.
Here are some of the best autotune apps for android and ioS platform:
Voloco
This app lets you record your voice and combine it with the auto-tuner. It also helps you shift the pitch and also corrects any pitch. It also has a pitch shifter feature that helps you bring out the fine-tuning of your voice.
Application features:
Pitch Shifting
set any song as a call
Pitch error correction
The app is compatible with Android and IOS platforms.
I Am T-Pain:
This app was developed by a team of programmers that makes you sound like T-Pain. If you are searching apps for background music for android and ioS devices, this is a perfect choice. It adjusts the vocals and frequencies in real-time. Once you have connected your account, you just sing on the microphone of your device and it will capture the feedback and amplify it according to the setting you have given. The best part of this auto tune app is you can share your work with auto tune stars in any part of the world. This helps in making your work get recognized in different parts of the world.
There is a famous youtube video about Barack Obama on which this autotune app is applied.
Tune Me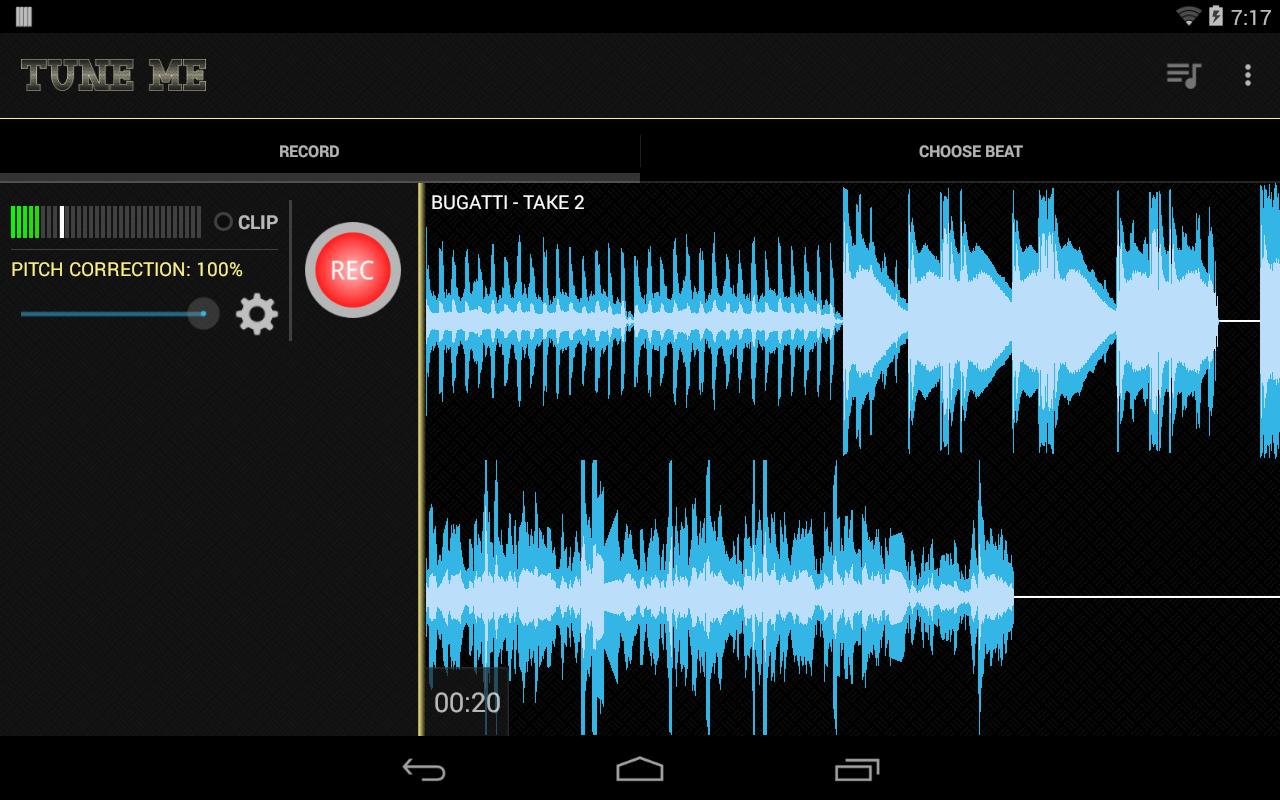 'Tune Me' helps you sing like a pro and makes your voice beautiful (for free). You can sing over any mp3 song or it's instrumental. Also, it lets you download any free background beat, like T-Pain or Akon, and record on it. With a Pitch correction facility available, it helps you sing exactly like your favorite singer. The program lets you download and record any track you like. Along with that, you can share your creativity with others. After done with using the app, you can set your favorite record as your ringtone. This app is one of the best auto tune app for singing.
Application features:
freestyle mode
record and load background bits
possibility to sing along any MP3 melody
set any song as a call
Pitch error correction
It's available on Google Play Store for FREE!
Know more about the ultimate creative photography tips
MicDriod:
This app quite much works like the T Pain auto tune app. But it has some more additional features to tone your voice. You can also record and share it directly on various social media platforms. Many hashtags are there on social media related to this app, using them you can connect various similar stars and hence collaborate.
Also, know about the best audio editing software.
Auto Rap by Smule
Application features:
Contains a huge variety of Styles and Bits
The composition can be saved
It can be uploaded to any social media directly
Available on both Android and IOS!
Star Maker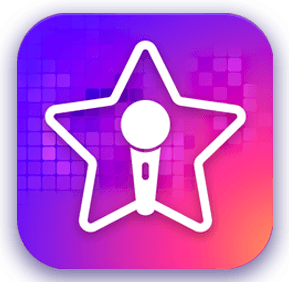 The one and the only major purpose of this app is to make you a star. And not a Local one. I hope you have already understood the basic features of this app. It helps you sing, sing with all your confidence and with all your best. The auto-tune function of Star Maker helps you climb the stairs to success and glorify your dreams.
It comes with 500 preinstalled tracks. For getting new cantos or records you may purchase. Your Music will never stop during the recording!
On the whole Star- Maker is an excellent application that will help you enhance your singing skills and have a lot of fun, both alone and with your friends.
Application features:
Has 500 preinstalled songs
Lets you rap too
Pitch error correction
Available on both IOS and Android!
The Voice
Inspired by a show named 'THE VOICE OF INDIA' this program for mobile phones called The Voice was created. It will allow you to feel like a star on the stage!
After you launch the app, you just have to select a song and you're ready. You just have to start singing. Now here the app will estimate the accuracy of your performance and enhance/correct it accordingly. Customization of VOX will be done automatically thanks to the embedded Auto-Tune, which makes the performance more great and enjoyable. The basic features are the same as presented in the karaoke app StarMaker, but here in 'THE VOICE', we have some other feature characteristic of the Voice contest. This app is considered one of the best autotune apps for android.
It has Great Graphics, which somehow present you the Judges sitting with their backs towards the performer (you!) and if your performance is good then the judges will turn their chairs towards you, just like in the show.
Application features:
Great Graphics
Singing Contest
Auto-tune ability
Unlimited songs
Automatic VOX customization
Available on both IOS and Android!.
Vio:
You could be a music amateur trying out composing on your own. Or you could be an advanced musician looking out for ways to edit your tack. If you are searching an auto tune app for iPhone, Vio is the perfect app for you! This is the best auto tuning app to rectify your vocals and voice!
Irrespective of your singing skills, you will always be able to hit the right notes with the help of this app. Plus, there is no artificiality to this! Your voice will sound natural and melodious regardless. What's more in store for you? You can also adjust and rearrange the scales, the notes, the pitch, the tempo, etc. Music recording and editing have been made very easy by this app. It allows you to save your tracks in any format. Moreover, it also enables you to share these compositions using Dropbox, SoundCloud or YouTube.
Voice Synth:
Now you're ready with a vocally well-recorded track. However, do you wish to add more effects to it? Voice Synth is the app you will need at this stage!
Voice Synth is the best synthesizer which will aid you to add a ton of effects to your voice! It has practically become a refuge home to many DJs, musicians, music, recording and sound engineers out there!
It will not only aid with the beautiful harmonies but also make sure your track has the whole element of unison you need for your song. Its built-in auto-pitch technology enables to match your tonality and adjust your vocals with any external track. It has an impressive range of functions like reverb, pitch-shifter, adjusting voice-delay, distortion, arrangement and many more! This is a must auto tune app for singing.
Rapchat:
After the editing and song apps mentioned here, this is an app dedicated to all the rap song lovers! You could be making raps for fun or maybe you want to record it professionally. For either, if these options, Rapchat is an excellent choice for you. You have an option to choose from a range of thousands of different beats by significant music producers. You can add vocal filters to make it sound exotic!
In addition to this, you can also add harmonies, chorus, or make a collaboration with your friend! The coolest thing about this app lies in its unique Rap Name Generator which suggests you rap name for yourself! So, what are you waiting for? Go ahead and try out this app for a studio-like experience of recording and editing your rap!
Songify:
Do you love singing relentlessly yet people tell you the opposite? Don't worry, this is the time to prove them wrong! Try Songify! It is the best app ever developed for singers and non-singers as well. Invented by Smule, this is an app that will magically transform your common speech into a song.
No matter how bad you think you are, this is an auto tune app that will modify your vocals into a beautiful song! That's the whole point of this app. Its unique ability to transform mere words into a song is the best you could have! Have fun with the most popular tracks available in the app. Singing is definitely not compulsory here. All you have to do is to speak into your device to convert it into a melodious song!
Glee Karaoke:
Here's another exotic autotune app for android by Smule! Glee Karaoke is the best suitable app for people who love Karaoke. If you have seen the comedy series by Ryan Murphy, which is also named Glee. There's a lot for you to relate because after installation you will see the stars from the series on your screen that will become your assistants later.
Many popular hits are available on this app, such as 'Keep me hanging,' 'Somebody to Love,' 'Rehab,' etc. All you have to is, select a song and sing your heart out! Like most of the Karaoke's, this app also the choir singing along with you. However, its uniqueness lies in correcting your voice whenever it is off. This makes your song sound perfect!
Moreover, you can also record your song and invite any of your friends to sing along with you!
Above were the best auto tune apps that are available on either Android or IOS or both of them. All the applications that were talked about above are available free of cost!